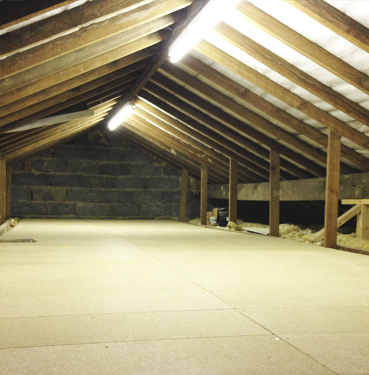 Loft Lighting Ventilation & Smoke Alarms
What sort of lighting do you do??
We mainly do energy saving light bulbs wired to a roof mount cored pull switch as standard which give of around 640 lumens but you can upgrade to a 4ft fluorescent tube which are about 3300 lumens.
What are lumens?
Lumen are simply a measurement of light output so the more lumens the more light.
Watts are no longer used to gauge bulbs brightness like it used to be as LED lighting and energy bulbs have changed all that from the days of candescent bulbs.

Why do I need ventilation?
This is mainly used in a loft room with walls and roof liners but not used for simple boarding as the raised loft storage system we use has a airflow gap underneath it so as to allow circulation around your loft to continue as before.
Smoke Alarms?
Yes a good idea if you are storing in your loft it better to be safe than sorry.
People forget to turn of their battery operated items or leave batteries in devices and on some rare occasions this could cause a spark and start a fire in your loft so its better to have something as an early warning.


If you have a loft service that you required just give us Loft Monkeys a phone call on 01254 879040 or you can e-mail us by clicking here
Remember we cover the Northwest of England and have professional trained staff working in all areas.