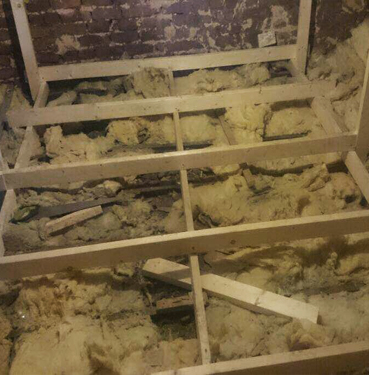 Raised Sub-Frame For Older Properties
What sort of sub-frame do you build for older properties?
Older properties have a different type of roof than newer build. Most common new build tend to have a trussed style roof for the LoftZone raised loft floor is great for this purpose, but older properties tend to have the traditions Purling supported roof rafters.
Ceiling joist in older house span usually from a central wall to the front wall and centre to back wall and occasional roof hanger to hold up the weaker central parts of your ceiling joists.
Over the years these hangers can break off and need to be replaced so we always look out for this and provide this service along with our loft boarding.
To be able to construct a safe storage area in an older purling style roof loft we have to build a raised timber sub frame which is supported on main walls and hung on from roof purling's so as to avoid creating any extra load on the existing ceiling joists which is not recommended at all. This method is a little more complicated than most companies offer but we want to make your storage area strong and safe so you can use it with confidence knowing there is now strain on your existing ceiling.
We even build above your insulation level so no compromising the insulation.
Never squash or Remove insulation to lay boards down it must be done in a certain way so there are no future problems from condensation which may cause damp issues.

If you require a quote for your LoftZone raised loft floor requirements simple call us on 01254 879040 or you can e-mail us by clicking here