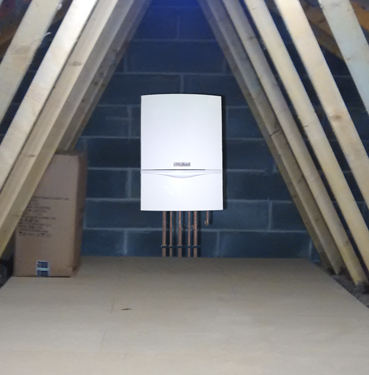 Loft Working Platforms & Safety Rails
Loft safety is very important, accidents can happen and helping prevent them especially in lofts is very important. The most common accidents in lofts are falling through the ceiling and falling down the loft hatch opening.
In both cases we can help prevent this from happening by installing good quality strong flooring in the areas you want to access and install a rail or balustrade around the opening of the hatch to stop anyone from walking backwards or stumbling toward the loft hatch, its a long way down and could be quite nasty so its worth considering installing a safety balustrade or railing.
We can make and install simple wooden balustrades or we can installed universal metal rail version which simply install to your loft joists or flooring.
If you need a helping hand getting in to your loft why not have installed a hand grab rail to assist your balance when climbing the ladder in to the loft area.
We can also create a safety balustrade around the edge of the boarding to prevent stepping off the safe boarded area on to the plaster board ceiling.
Contractor Safety Work Access
We often get asked to create a working platform, stage or walkway for any contractors who may need to access your loft to work on Boilers, Solar panel equipment, TV or networking equipment, pipe work or electric cables. A contractor can refuse to do this work if there is no safe area to walk on or if the access to your loft is bad.

We can help provide easy safe access to your equipment in your loft by providing what is recommend for working at height safety requirements.
A suitable loft hatch / opening must be provided of regulation size (726mm x 566mm) to allow a person and a secured ladder to pass through without any obstruction


A strong purpose built stow away aluminium ladders must be fixed in place with lockable sections when pulled down to use.


A safety rail must be provided to surround the hatch to protect anyone falling down the loft opening from inside the loft by walking backwards or stumbling towards the opening.




A secure purpose built platform must be provided to allow a safe walkway and to surround the apparatus / equipment to be maintained. Several working areas can be provided which are accessed off the main walkway.




Adequate fixed lighting must be installed correctly and be installed in accordance with IEE wiring regulations and comply with building regulation Part P (The light must be fixed and a switch must be placed in a safe but easy to reach location from the loft opening)
The walkway / boarding must be constructed by using a raised sub-frame system to avoid compression of any existing loft insulation. Any insulation compression will diminish the effectiveness of the insulation considerably.
More information and white paper on Loft Safety
Working at Height download our PDF white paper http://www.loft-boarding-nw.co.uk/docs/Safety_in_lofts.pdf
If you have a loft service that you required just give us Loft Monkeys a phone call our central enquiries number for the Northwest of England 01254 879040
Remember we cover the Northwest of England and have professional trained staff working in all areas

If you require a quote for your LoftZone raised loft floor requirements simple call us on 01254 879040 or you can e-mail us by clicking here