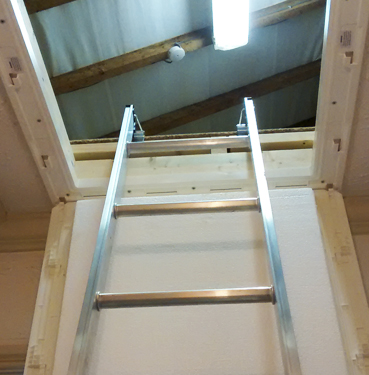 Loft Ladders & Loft Hatches
What type of loft ladders do you have?
We do a range of ladders to suit almost every type of house.
The standard type of ladders we call of the shelf ladders, made of quality aluminum sections and reach from 2.69mm to 3.0m ceiling heights.
These are usually ideal for new builds and more modern lower ceiling houses.

We also cater for high ceilings most common to Victorian terraced or detached. These can be a little bit higher that 3m so we have to use a longer reach ladder in the form of a concertina which can reach up to 3.66m
We also do a longer ladder in wood, which has a wider wood tread which makes climbing the ladder allot easier. These come with a combined loft hatch which is 1150mm long so quite a bit bigger than your average loft hatch.
These wood ladders and hatches are great for anyone wanting to use their loft more than normal, hobby or loft studies.

What type of loft hatches do you have?
We only do energy efficient hatch replacement in plastic measure 728mm x 566mm and then we do extra long wood hatch and ladder combination measuring 1150mm x 545mm.
Replacing an old loft hatch must be done correctly, no point modifying an old push off hatch by reversing it putting hinges on and a catch without adequate draft seals, insulation and locking points.
In some cases it can't be helped as you may want to preserve the look of the ceiling by keeping to traditional wood or finish to match the rest of the house. Although when done correctly it will be a little more expensive than a new purpose build loft hatch.
In most cases it is not necessary to do this and it's far more cost effective and makes more sense to install a brand new draft sealed British Standards approved hinged door hatch and frame.
Most of us at some point or another had our insulation updated to the government recommended level of 270mm.
This will make a vast difference to your energy bills over the years. In some cases you can get green deal grants to have this installed for free, but even if you are not eligible for free insulation it doesn't cost a fortune to buy your own, or have installed professionally.
The one thing we do forget to upgrade is the loft hatch.

Old loft hatches (see picture above) have gaps and they don't seal shut properly, whistle to you on windy days and are pretty much useless to climb through to enable you to fit a ladder or use your loft for storage.
It's important to consider having a brand new latest specification draft proof loft hatch installed if you're considering using your loft for storage as it may need to be done just to get a ladder in.
Hand made or reversing the door (Like picture above shows) to convert an old hatch is not recommended as this will not reach building regulation specifications and not all reliable at draft excluding or being energy efficient.
Professionally Installed Loft Hatch Replacement or DIY?
Professionally installed as it can be a pretty big and physically demanding job depending on the age of your property and location of the hatch. You could say the older your house the more difficult and expensive it can become.
But it's still affordable you get a brand new enlarged loft opening and loft hatch professionally installed from only £90 on average so it is always worth considering.
The Manthorpe GL250 loft hatch that we use has been independently tested by the BRE to BS EN 13141-1:2004, and easily surpasses the requirements for air leakage which are outlined in the current building standards, certification is available.
The revolutionary design of the multi-point catch mechanism means that the GL250 door can maintain a more effective draught seal around the entire accessible opening, helping to meet the air leakage requirements of Part L of the Building Regulations and preventing the problem of moist warm air entering.
Many drop down hatches suffer from 'sagging' over time, a problem that can cause the middle of the door to bow away from the draught seal, creating an air leakage path. To prevent this issue, the GL250 door has 12 independent catch points located around the perimeter of the frame, operated from a single position with a unique sliding mechanism.

With the sliding cover replacing a conventional twist action locking mechanisms on the door, all of the hinge, catch and fixing geometry has been carefully located outside of the draught seal, meaning that there are no holes through the door that could pose an air leakage risk.

When the cover is located in the fully closed position it also completely conceals the hinge detail. The positioning of the doors pivot point is intended to maximise the accessible area available to the user when the door is open and the pioneering hinge design allows for it to be fully removed from the frame quickly and easily for simpler installation and better access with larger insulation options.

The fixings for the frame also screw directly up into the ceiling for easier installation, also providing pressure in the optimum direction for the frame to ceiling seal.

The back of the door panel has been optimised to increase the amount of space available for insulation, allowing the 50mm of expanded polystyrene to cover a greater area within the structural opening to create a better thermal barrier.
Our expert trained installers can do most hatch replacements within a day or less and without too much fuss or inconvenience to you and your home.

DIY on the other hand! well you would need to be very competent to take on this job and you must have good knowledge of general building work to understand what you can cut away and what needs to be strengthened.
Cut away the wrong thing and it could weaken your ceiling and may collapse if walked upon. If you are not a 5 star DIYer I wouldn't tackle this job yourself, let the experts do it.
Call 01254 879040 for more info
BENEFITS OF REPLACING YOUR OLD LOFT HATCH
In most cases you cannot have a loft ladder installed if your hatch lifts off or hinges in to the loft space there will be no clearance to operate the ladder from below, also it is dangerous as the loose lid could slip through the opening and land on your head.

A new loft hatch will give you ease of use, in most cases a larger opening, no lid falling on your head, draft sealed and insulated to match your loft insulation.

Most old hatches are not draft sealed properly or not at all, heat escapes through gaps in the door and frame.

A new hatch has a multi-point sliding lock and seal system so the whole seal around the hatch sealed shut.

No loft door insulation? It's great that you get the loft insulation updated but what about the loft door insulation.

A new loft hatch has built in insulation on the back of the door with just the right amount of clearance to operate a ladder.

It can be hard to insulate the loft door if you install a ladder as the insulation will catch on the ladder stowed above it and makes it more difficult or impossible to operate.

A hinged door allows the door to swing down for ease of use and so you can reach the ladder above it. If you require the whole door can be removed.

Most old hatches are simply just too small to use for proper storage access.

Yes true so a new hatch will give you minimum of 726mm long by 566mm wide plenty enough to get modern suitcases, boxes and items through.
If you have a loft service that you required just give us Loft Monkeys a phone call on 01254 879040 or you can e-mail us by clicking here
Remember we cover the Northwest of England and have professional trained staff working in all areas.